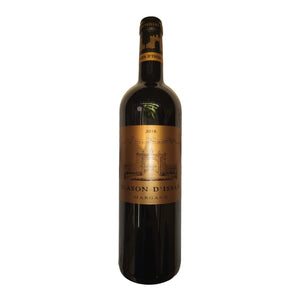 Blason d'Issan 2016, Margaux
Made from a blend of Cabernet Sauvignon and Merlot grapes, which are carefully selected and harvested by hand. After fermentation, the wine is aged for 12 months in oak barrels, with about 30% new oak.

It has a deep ruby color and a complex aroma, with notes of black fruits such as blackcurrant, blackberry, and cherry, along with hints of tobacco, vanilla, and spice. On the palate, the wine is full-bodied and well-structured, with flavours of ripe fruit, chocolate, and a touch of oak. The tannins are firm yet smooth, providing a long and elegant finish.

Pair with red meat, game, and hearty dishes, or for enjoying on its own.
---