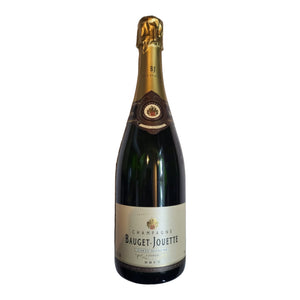 Bauget-Jouette Brut 'Carte Blanche' NV
Floral and fruity flavour profile

Made with a blend of Pinot Meunier, Pinot Noir, and Chardonnay grapes. The wine is aged for at least 18 months on its lees, which gives it a rich, creamy texture and complex flavour profile.

On the nose, it is characterised by aromas of ripe apples, citrus, and brioche, with hints of floral and mineral notes. On the palate, the wine is medium-bodied, with a lively acidity and flavours of fresh fruits, toasted nuts, and a touch of honey. The finish is long and elegant, with a delicate balance between fruit and mineral.

A well-balanced Champagne that showcases the terroir of the Vallée de la Marne region.
Pairs well with a wide range of foods, including seafood, poultry, and light pasta dishes.
---