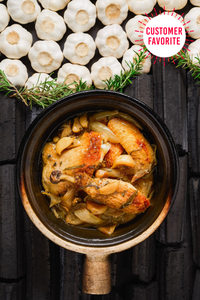 Atout Signature Oven Roasted 40 Garlic French Chicken
A signature of atout. French breed chicken which is hormone and antibiotic free.
The chicken is roasted with a generous amount of garlic cloves that are cooked until lightly browned and then simmered with white wine and chicken stock to create a flavourful and aromatic pan sauce. The roasted garlic cloves become soft and tender during the cooking process, infusing the chicken with their delicious, sweet and savoury flavour.

Roasted French Chicken with "Forty Garlic" is typically served hot and garnished with additional thyme leaves, along with the roasted garlic cloves and pan juices. This classic French dish is both elegant and comforting, making it perfect for special occasions or cozy family dinners.
Delivered: Hot and ready to eat
Shelf life: 4 hours after delivery 
Weight: 1/2 chicken
Serving: 2 - 3 pax
Ingredients: French breed chicken, onion, garlic, butter, herbs, salt and pepper
Reheating Method
In Microwave
Partially open the lid of the box
Process 2 minutes at 800W then stir, repeat process if necessary
Remove from microwave (be aware of hot temperature)
Serve and enjoy
In an baking oven
Pre-heat the oven at 175°C
Pour contents into a baking dish
Bake the chicken for 10mins,
Baste the chicken every 5 mins
Serve and enjoy
---