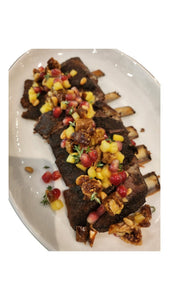 'Melt in the Mouth' Lamb Spareribs
The spareribs are marinated in a blend of spices which gives them an exotic flavour.
The ribs are then slow-cooked until they're fall-off-the-bone tender, creating a juicy and succulent texture that is packed with flavour. The Moroccan spices add depth and complexity to the dish, with a balance of earthy, sweet, and spicy notes that creates a harmonious and satisfying taste.


Delivered: Hot and ready to eat
Shelf life: 4 hours after delivery 
Serving: For 2, 6 ribs
---