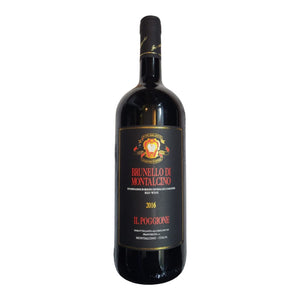 Brunello Di Montalcino 2017, il Poggione ( Magnum)
Rich and complex flavour profile.
Made entirely from the Sangiovese grape, which is grown exclusively in the Montalcino region of Tuscany, Italy. The grapes are carefully selected and harvested by hand before being fermented in stainless steel tanks and aged in oak barrels for at least three years.
The resulting wine is deep ruby red in colour, with intense aromas of dark fruit, such as cherries and blackberries, along with hints of leather, tobacco, and spices. On the palate, Brunello Di Montalcino 2016, il Poggione is full-bodied and rich, with a complex flavour profile that includes ripe dark fruit, earthy undertones, and a subtle hint of vanilla.
The wine has firm tannins and a long and lingering finish that is both satisfying and memorable.
This wine pairs well with rich and hearty dishes, such as roasted red meat, game, or pasta dishes with a rich tomato sauce. Perfect for special occasions or for anyone looking to indulge in a truly exceptional wine.
---