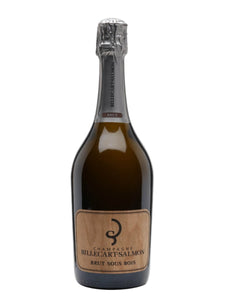 Billecart-Salmon Brut Sous Bois NV (Magnum)
Refreshing and floral flavour profile

Made with a blend of Chardonnay, Pinot Noir, and Pinot Meunier grapes, which are fermented and aged in oak barrels, instead of the traditional stainless steel tanks, which gives it a unique flavor and texture.

It has a golden color and an aroma of citrus fruits, honey, and toasted bread, with notes of nuts and spices. On the palate, it is rich and creamy, with flavours of baked apple, lemon curd, and vanilla, along with hints of toasted nuts and a subtle hint of oak. The finish is long and complex, with a good balance between fruitiness and mineral. The use of oak barrels gives it a rounder and more full-bodied character, with a good depth of flavour and a lingering aftertaste.
Best enjoyed chilled, at around 10-12°C, and it is a good choice to pair with roasted meats, savoury dishes, or rich desserts.
---