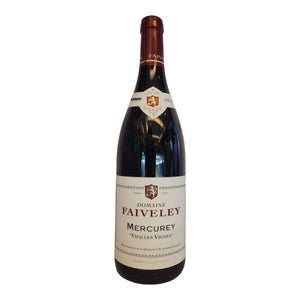 Domaine Faiveley Mercurey 'Vieilles Vignes' Rouge 2020
Elegant and balanced flavour

 profile

Made from 100% Pinot Noir grapes, which are grown in the Mercurey appellation of the Burgundy region in France. The grapes are carefully selected and harvested by hand before being fermented in stainless steel tanks and aged in oak barrels for at least 12 months.

The wine is a bright ruby red color, with aromas of red fruit, such as raspberry and cherry, along with subtle earthy and spicy notes. On the palate, it is light to medium-bodied and well-balanced, with a flavour profile that includes ripe red fruit, such as strawberry and raspberry, along with hints of vanilla and oak. The wine has a silky texture and a refreshing acidity that gives it a long and satisfying finish.

Pairs well with a variety of dishes, such as roasted chicken, pork, or salmon, as well as mild cheeses and charcuterie.

An easy-drinking wine that is perfect for casual meals.
---