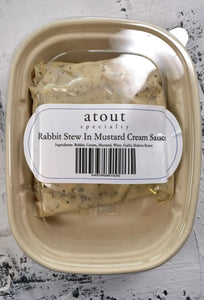 (Vacuum Packed) Rabbit in Mustard Sauce
Farmed Hungarian rabbit braised in white wine mustard cream sauce.
Using only farmed Hungarian rabbit, atout's signature dish is a delicious and savoury dish that features tender, succulent pieces of rabbit meat that have been cooked in a rich and flavourful sauce made with Dijon mustard, white wine, chicken broth, onions, and fresh herbs.
The dish is both elegant and comforting, with the rabbit meat taking center stage as the star ingredient. The mustard sauce is creamy and tangy, with a depth of flavor that comes from the combination of the white wine and chicken broth. The addition of onions and herbs like thyme and parsley add a savory and earthy note to the dish. 
It pairs well with a variety of sides, such as roasted potatoes, steamed vegetables, or crusty bread to soak up the delicious sauce.
Deliver chilled: In a vacuum bag
Shelf life: 7 days from delivery date, store in the fridge at 0°C to 3°C or 1 month in the freezer
Weight: 450g
Serving size: 2 pax
Ingredients: Rabbit, mustard, seed mustard, cream
*contains small bones
Reheating Method
In a Water Bath
Place the bag in simmering water for 30 minutes

   (Do Not Place The Bag In Boiling Water, Water Should Not Be Above 85'C)
In Microwave
Open package and pour into a microwavable box, partially open the lid of the box
Process 6 minutes at 800W then stir, repeat process if necessary
Remove from microwave 
Serve and enjoy
In a Sauce Pan
Pour package into a pan
On a low/med heat, slowly warm up the stew
Stir the contents to ensure the bottom does not burn (for around 30mins)
Adjust the seasoning, serve and enjoy
---