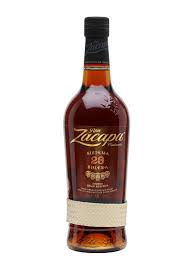 Ron Zacapa Centenario Solera 23
Ron Zacapa Centenario Solera 23 is a premium rum produced in Guatemala by Ron Zacapa, one of the most highly regarded rum distilleries in the world. It is made using a blend of rums that have been aged from 6 to 23 years in a solera system, which is a traditional aging process that involves blending rums from different barrels of varying ages to achieve a consistent flavour profile.
It has a rich mahogany color and a complex aroma of vanilla, honey, and dark chocolate, with a subtle hint of smokiness. On the palate, it has a smooth and silky texture with a rich and complex flavour of caramel, dried fruit, and spices, including cinnamon and nutmeg. The finish is long and warming, with a pleasant sweetness and a hint of oak. 
It has a well-balanced flavour profile that is both sweet and complex, making it a versatile rum that can be enjoyed neat, on the rocks, or used in a variety of cocktails.
Best served at room temperature or slightly chilled to allow the full flavor profile to develop.
---