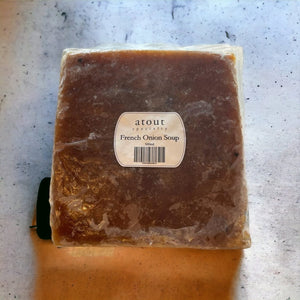 Premium French Onion Soup (Frozen)
French Onion Soup is a classic, made with caramelised onions, veal stock. It has a rich and savoury flavour and is often served as an appetizer or light meal.

To serve the soup, slices of toasted baguette are placed on top of the soup in individual bowls, and then topped with grated Gruyere cheese. The soup is then placed under a broiler or in the oven until the cheese is melted and bubbly.

French Onion Soup is a comforting and satisfying dish, perfect for a cold evening or a cozy night in. It has a deep, rich flavour that comes from the caramelised onions and savoury broth, and the melted cheese on top adds a delicious, gooey texture.
Reheating Method
1. Defrost soup
2. Pour to pan
3. Bring to boil
Ingredient: 
Yellow onion, Veal stock, Balsamic vinegar, Bayleaf,
Black peppercorn, Thyme, Water, Salt & Pepper 
Shelf life: 
1 year
 frozen
---