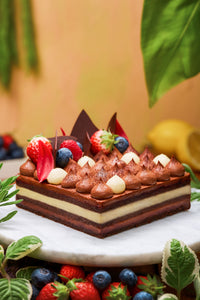 Flourless Chocolate Lemon Crème de cassis *Gluten Free
Flourless chocolate almond sponge with blackcurrant compote, lemon cream & Guanaja chocolate mousse.
This amazing cake is so well made, you will think it is just like any other cake but gluten-free! Perfect marriage of chocolate and fruits for ladies that cannot decide between the two.
Deliver chilled: Takeaway box
Shelf life: 5 days from delivery date, store in the fridge at 0°C to 3°C
Weight: 300gm , 500gm & 1kg
Serving: 2pax , 4pax, 6pax
Ingredients: eggs, cocoa, cream, milk, blackcurrant, lemon
---