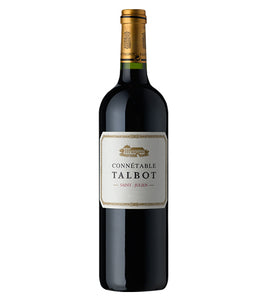 Connétable de Talbot, Saint-Julien 2019


Connétable de Talbot is the second wine of the prestigious Château Talbot, a winery located in the Saint-Julien appellation of Bordeaux, France. The wine is made from a blend of Cabernet Sauvignon, Merlot, Petit Verdot, and Cabernet Franc grapes.
The grapes used to make Connétable de Talbot are harvested from the younger vines and the plots that do not meet the strict quality standards required for the Château Talbot label. The wine is vinified and aged in oak barrels for around 12 months, which gives it a complex aroma and flavor profile.
Connétable de Talbot is a medium-bodied wine with a deep ruby color and an aroma of black fruit, spice, and vanilla. On the palate, it is elegant and well-balanced, with smooth tannins and a long finish. The wine can be enjoyed young, but it also has the potential to age for several years.
Overall, Connétable de Talbot is considered to be an excellent value for a Bordeaux wine of its quality. It pairs well with a variety of meat dishes, including beef, lamb, and game.
---