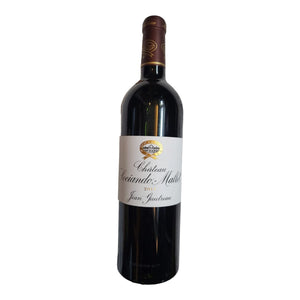 Château Sociando-Mallet 2011, Haut-Medoc
Rich and complex flavour profile
Made from a blend of Cabernet Sauvignon, Merlot, and Cabernet Franc grapes, which are grown on vines that are around 35 years old.
The wine has a deep, dark color with purple and ruby hues. On the nose, it has an intense aroma of black fruit, such as blackberry and cassis, along with hints of vanilla, tobacco, and spices. On the palate, it is full-bodied with rich and complex flavors of black fruit, licorice, and a touch of earthy notes. The tannins are firm and well-structured, giving the wine a long and satisfying finish.
Aged in oak barrels for 12-18 months, which adds a subtle note of oak and a refined complexity. The wine is approachable now, but it can also be aged for several more years, which will further enhance its depth and complexity.
Perfect for pairing with red meat, game meat, and strong cheese. 
---