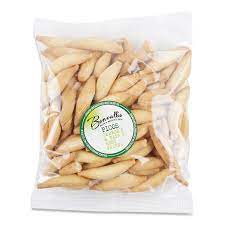 Bonvallis Spanish Breadsticks with Olive Oil
An artisanal breadstick that is made with high-quality ingredients and traditional techniques. They are produced in Spain, using extra virgin olive oil and premium wheat flour. A crispy and crunchy texture, with a subtle flavour of olive oil that adds a rich and savory taste to the breadsticks.
A versatile snack that can be enjoyed on their own or paired with a variety of foods. They are commonly served as an appetizer or snack, either alone or with cheese, charcuterie, or dips such as hummus or tzatziki.
A delicious and versatile snack that can be enjoyed as part of a charcuterie board or served as an appetizer with your favorite dips and spreads.
---