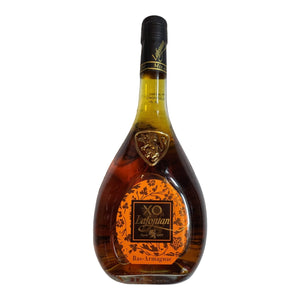 Armagnac Lafontan XO
A premium brandy produced by the Lafontan family, who have been distilling Armagnac in the Gascony region of southwestern France for over 5 generations.
Armagnac Lafontan XO is made from a blend of the finest Armagnac eaux-de-vie aged for a minimum of 10 years in French oak barrels. The brandy has a deep amber color and a complex aroma, with notes of dried fruits, vanilla, oak, and a hint of spice.
On the palate, Armagnac Lafontan XO is smooth and well-balanced, with flavors of dried apricot, fig, and caramel, along with a subtle sweetness and a touch of oak. The finish is long and warming, with a lingering taste of vanilla and spice.
Best enjoyed as a digestif after a meal, or paired with rich desserts such as chocolate or fruit tarts.
---