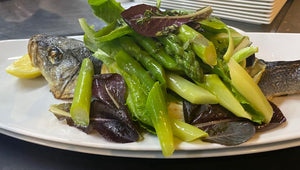 Oven Baked Whole Scottish Sea bass "Butterfly" with Mixed Green Salad & Spring Asparagus, Lemon Olive Oil Dressing
The sea bass is de-boned,  butterflied and then baked in the oven until it is perfectly cooked and flaky.
Served with a light and refreshing mixed green salad, as well as fresh spring asparagus, which is lightly steamed until crisp-tender. The salad and asparagus are dressed with a tangy and zesty lemon olive oil dressing, which perfectly complements the flavours of the fish.
The combination of the tender and flaky sea bass, the fresh and crunchy salad, and the crisp-tender asparagus results in a dish that is both sophisticated and satisfying. This dish is perfect for a special occasion or a fancy dinner party, and pairs well with a glass of white wine. 
Delivered: Ready to eat
Shelf life: 4 hours after delivery
---