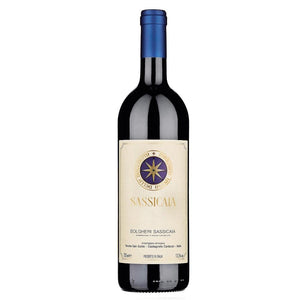 Tenuta San Guido Sassicaia 2012 ( Magnum)
Full-bodied and black fruits flavour profile
Made from a blend of Cabernet Sauvignon and Cabernet Franc grapes, which are hand-picked and carefully selected from the best vineyards in the region.
It has a deep ruby color and a complex aroma of black currants, blackberries, and a hint of cedar, along with a subtle undertone of vanilla and spices. On the palate, it has a full-bodied texture with flavours of dark fruit, including black cherries and black currants, along with notes of tobacco, leather, and a hint of chocolate. The tannins are firm and well-structured, giving the wine a bold and powerful character. The finish is long and flavourful, with a touch of spice and a hint of mineral. It has a well-balanced and refined character, with a good balance between fruitiness and complexity.
Pairs well with a variety of dishes, such as grilled meats, stews, and hearty pasta dishes.
Best served slightly chilled and can be enjoyed now or aged for several years to further develop its complex flavours.
---