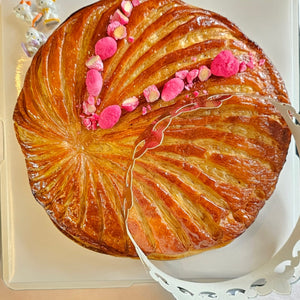 (Pre-order, only available from 14th Dec '23 to 14th Jan'24 )Lyonnaise Pink Praline Galette des Rois
HOW ABOUT A HOME-MADE GALETTE? 
Pre-Order is available now.
The Galette des Rois is a way for French people to celebrate the Epiphany, the arrival of the Three Wise men (Magi). Every year, on January 6th, people gather pour tirer les rois, to find the kings.
Our Galette is a northern French style puff pastry cake filled with a sumptuous almond cream paste.
Ingredient: Lescure Butter, Almond Powder, Brown Sugar, Sugar, Flour, Vinegar, Cream, Eggs, Vanilla Extract.
Allergy – Nuts, Dairy,  Gluten
---