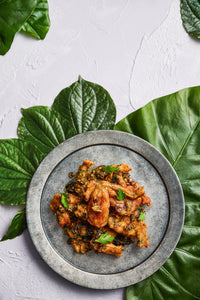 Sautéed Frog Legs with Garlic & Parsley
An atout signature dish. Sautéed frog legs with garlic and parsley is a unique and flavourful dish that is popular in French cuisine.  The garlic and parsley add a deliciously fragrant to the dish, while the butter provides a rich and creamy texture.
The frog legs themselves have a delicate and mild flavor, with a texture that is similar to chicken or fish. This dish is often served as an appetizer or a main course, and pairs well with a variety of sides such as rice, potatoes, or fresh vegetables. 
Delivered: Hot and ready to eat
Shelf life: 4 hours after delivery
Serving size: 2 pax
Ingredients: Frog legs, butter, shallot, garlic, salt & pepper
---